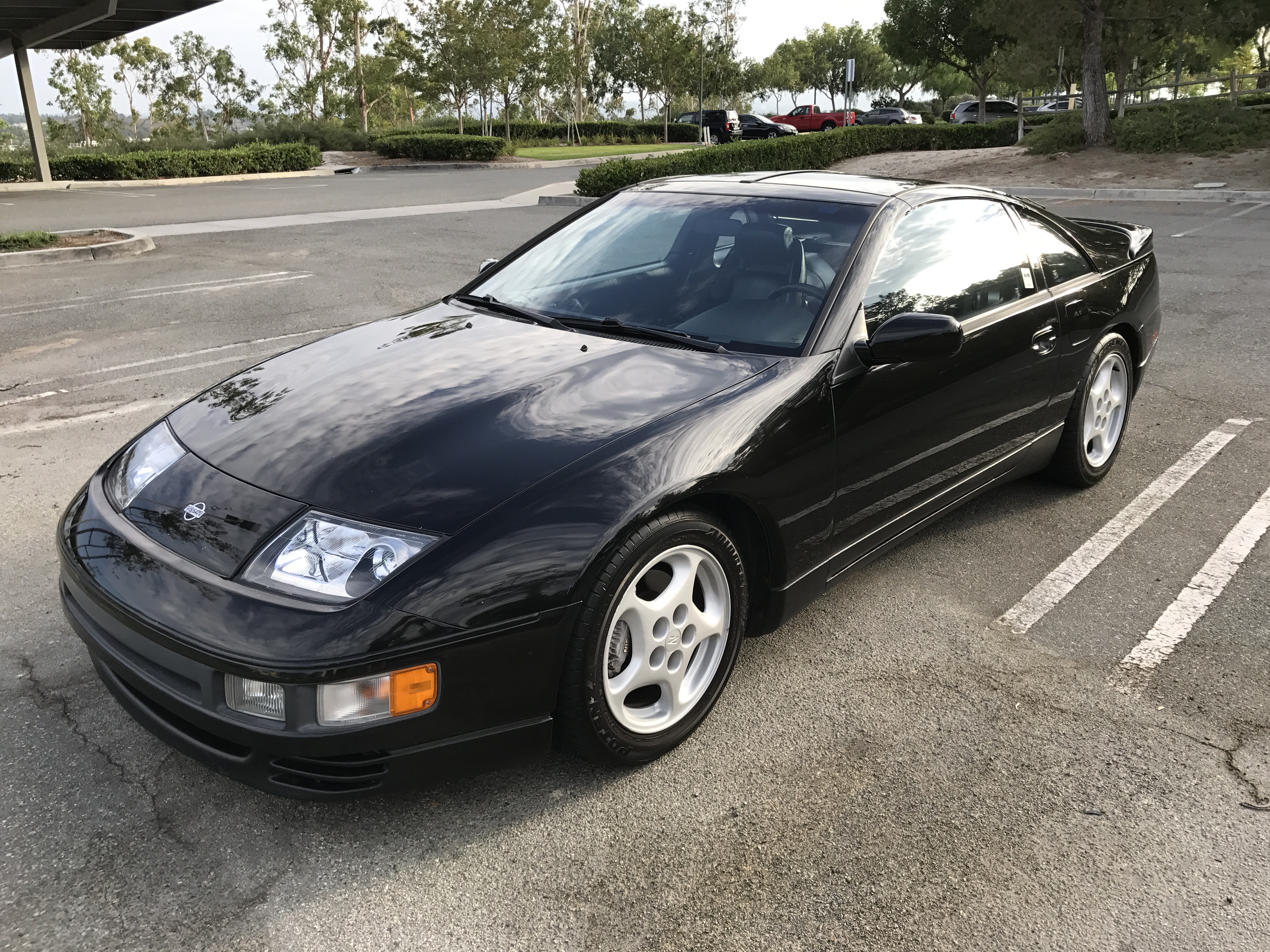 Background
In 2001, I looked all over for a 5-Speed Twin Turbo Z32, searching high and low for a good condition vehicle in all of the US of A. I found this beauty around the corner in the middle of CA with 55K miles on it and completely stock. My understanding was that I was the 3rd owner of this Z.
As some already know, the 300ZX TT can have maintenance issues if not properly TLC'd. As a college student, I was shocked to find out the bill for the first 60K maintenance with the timing belt – $1600 given the service was around 11 hours of labor! I am extremely glad this car has never had any serious issues, and it has been a complete joy to own. I get looks and turn heads every time I drive this car, and even much more so now that it has been tastefully upgraded from stock.
All modification work has been done by Specialty-Z, with most of it occuring at around 120K miles. The Z currently has 127k miles.
Maintenance and History
Oil changes have been done every 3000 miles or less since this car was born. Most of these I have done myself, so as to avoid the Jiffy Lube rookie issues of stripping oil pan bolt threads and so on.
Standard recommended maintenance has been done at 60K, and new clutch, clutch hydraulic systems, and rear main seals at 90K. I redid most of that at 120K.
Of course, the Z eats tires, so those have always been taken care of – always had stock wheels and sizes and it currently has a pair of Bridgestone RE-011's in the rear and 050A Pole Position's in the front.
The Z has always been garaged, and hence the original paint and rubber seals are still in good condition – 30 years and going. It doesn't leak, and since it is in CA, it has never seen snow/salt/weather worse than a rain shower. The exterior paint still has a layer of clear coat on most surfaces, though it is showing signs of oxidation around the headlights and has a few chips in the front due to tiny rocks. The front fascia and some of the plastic trim has some scratches, but could just use some localized repaint to clean it up.
The interior is all original and nearly flawless, except for a missing plastic defrost button – and the button still works just fine.
The A/C is good as new, and blows arctic cold air (I usually turn it down as it is too cold!). The original stock Bose stereo is notorious for failing and the stock speakers/amp design was wired in series and will always fail given time and age. Some substantial work was put into upgrading the audio system, but keeping the bose speaker grills to retain as much of a stock look as possible (also to keep away probing eyeballs when parked!). I wanted a smarter head unit, and overall wanted about 1000 watts RMS of power with 2 and 3 way front and rear speakers, with a stealth sub.
Now let's get to the mods…
The main focus of modification for my Z has been to replace failed parts with better than OEM, or to simply make a huge performance and reliability upgrade without sacrificing one or the other.
This car has a great baseline and is ready to get to the next level for track days, or it can still be a street sleeper with all the comforts of a nice stereo and a heck of a lot of horsepower.
At last tuning at Specialty Z, the car pulled 381 RWHP and 411 RWTQ @ 16PSI – putting it nearly at 450hp at the crank which is about the limit for stock turbos anyhow. With all of the breather mods, the power delivery line is incredibly flat for a turbo car and is at full mast around 3500 RPMs (see dyno chart below).
April 2023 Update
Specialty-Z upgraded my exhaust to a new custom assembled exhaust including custom GESI high-flow catalytic converters.
Upgrades
Handling
Subframe Spacers
Stillen Front and Rear Anti-Sway Bars
Stainless Steel Brake Lines
Hawk Performance Brake Pads
PowerTrix Front Tension Rods
Eibach Springs (lowered the height a bit)
KYB AGX Shocks
Performance/Engine
Selin Dual POP Kit
ASH Massive Intercoolers, Ducts, and IC Piping (and hard intake pipes)
Z1 Motorsports CNC Throttle Bodies
95+ EFI Harness
300 Degree Fuel Rails
Specialty-Z 740 CC Fuel Kit
RPS Segmented Aluminum Flywheel
RPS Sport Clutch 6-puck and Upgraded Throwout Bearing
NGK Iridium 7 Spark Plugs
Specialty-Z 4-Bolt 3" SS Down Pipes
Specialty-Z 3" to 2.5" Aluminized Test Pipes
Specialty-Z 2" Aluminized Dual Tip Catback with Resonated X-Pipe exhaust
ZSpeed Engine Splash Shield
Dyno Tune for 91 Octane
Blitz sbc-iD Spec-R Boost Controller
All engine gaskets, hoses, and o-rings replaced
120K Service Completed
Power Steering and HICAS Hoses Replaced
Timing Belt Cover Washer
Knock Sensor and Subharness
GESI GEN1 Advanced G-Sport UHO EPA (Catalytic Converter)
HFM Brake Master Cylinder (no more original parts from Nissan!)
Stoptech STR 600 Brake Fluid
Fresh Oil every 3000 miles or 12 months – 0W40 Synthetic used
Many other unmentionables like new PCV valves, new O2 sensors, new main seals performed at 120K when clutch was resurfaced
Interior
Original T-Tops still work great, and still maintain a leak proof seal. I also have the original T-Top leather bags and they fit perfectly in the hatch, even with the audio equipment back there.
Parrot Asteroid Smart Head Unit (runs Android Gingerbread, Waze, etc)
MB Quart QS216 6.5" 170W Q Series Front Speakers
Morel Virtus 402 4" 2-Way 300W Virtus Series Component Speakers
JL Audio 450/4 Four-Channel 450W Amplifier
JL Audio 250/1 Subwoofer Amplifier
JL Audio Stealthbox 10" W3v2 Subwoofer
Custom amp box built by Audio Lab in Lake Forest

Prevents sliding around when the Z zooms around!
Never had the amps overheat even in 100+ degree summers

Concept Z Performance – Rear Hatch Damper Strut Kit
(Z1?) Rear Trunk Tonneau Cargo Cover
Viper 5704 Car Alarm, with:

Glass-Break Mic Sensor
Anti-Tow Tilt Sensor
Viper Long-Distance RF Remote (works up to 1 mile away)

Nissan JDM Nismo 1999 Fairlady Z HID Xenon Headlights

Just got these installed < 100 miles ago – these cost $2500 and are a vast improvement over stock lights!
---
Pictures